Integrity Organizes a Workshop in Aden for Making Peace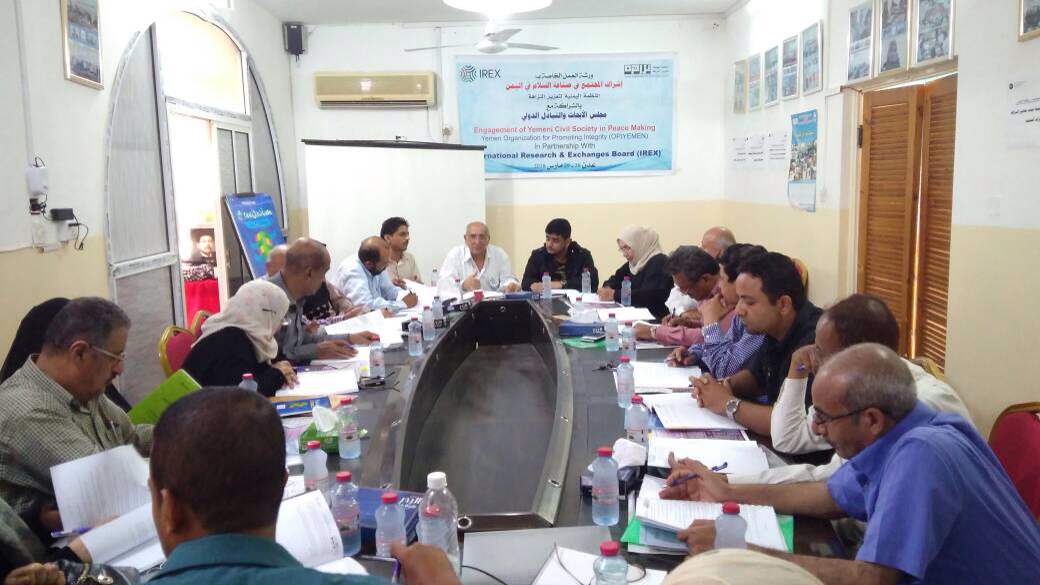 Yemen Organization for Promoting Integrity opened a workshop on engaging Yemeni society in building peace in Aden.
Twenty-five attendees from various orientations of the community including political parties, civil society organizations, human rights activists, journalists, and educators participated in the workshop.
The two-day workshop is part of a project to engage Yemen's society in peace-building, which is implemented in partnership with Research and International Exchange (IREX). It aims to stimulate and develop local, regional and international efforts in building peace in Yemen.
The participants discussed three research papers on recent political developments in Yemen during the past six months, the role of political players, civil society organizations and the media in keeping peace, as well as United Nations efforts in Yemen's peace-building.
They outlined a peace draft initiative involving the required contents and opportunities for peacebuilding, the underway challenges to the UN's efforts, and the performance of political powers, civil society and the media outlines for peace.
A group of volunteers arranged a campaign on the initiative to mobilize diverse actors for peace-building in Yemen.